Copier Rental Services In Santa Rosa, CA
At Common Sense Business Solutions, we believe there's a perfect solution for every company when it comes to copier rental, leasing, or purchase. Our job is to help you find the right equipment, at the right price, with the helpful service your team need to do their jobs even better. 
Need a short-term copier rental? We offer flexible terms with affordable pricing for any length of time.
Common Sense Business Solutions understands that you might only need a copier rental for a short period of time, but even still, we want to make you a fanatical, satisfied customer! We want to become your trusted provider for all printer services, now and in the future.
Free Guide:
Should I Lease or Buy My Next Office Machine?
Why Choose Us?
Smooth business operations depend on having a multifunction printer or copier that's easy to use and cost-effective. So, it's critical that you get the best deal on your copier rental before you sign on the dotted line!
We're here to provide copiers that work. We're also here to serve our clients with money-saving tips, customized service agreements, and personal attention to help your business run smoothly and efficiently.
For copier rental, Santa Rosa businesses can enjoy access to the best equipment on the market and concierge-level service from Common Sense Business Solutions. Get the printer, copier, and scanner you need with a rental agreement designed around your needs:
1) Month to Month Rentals with no long term commitment – We've found that many companies charge what we consider to be exorbitant rates when it comes to short term rentals. We do the best we can to offer the most affordable pricing to match even the shortest rental terms.
2) Single point of contact – When you contact Common Sense Business Solutions regarding a copier rental you will be assigned an experienced, single point of contact who will coordinate all arrangements from A-Z. Generally, the person tasked with setting up a temporary office has a long list of tasks to complete in a very condensed time. We understand this and make it easy by providing a single point of contact that will help determine the appropriate model, quote you rates, email over paperwork and answer any questions, coordinate the delivery, configuration to your network and training. We've found that many companies work with us specifically because we make sure everything happens on schedule and at our quoted rates.
3) Current models – Our rentals include modern, current models ranging from desktop to commercial size (many companies that offer short term rentals provide tired, older generation models. We provide recent models in excellent working order even on our shortest rental terms.
4) Same day, onsite service – we provide same day service along with remote help desk support ensures that you can count on your equipment to perform when you need it. We have our own fleet of technicians and our own local parts warehouse allowing us to respond without delay to any and all issues regardless of their nature.
5) One monthly invoice for everything – we offer flexible monthly plans that deliver use of our multifunction copier, all service, all parts and all supplies except paper for one single monthly price.
6) Internal Financing – We finance all of our short term rentals internally so there is no need to go through a cumbersome credit application process, formal document review or any need for personal guarantees on any of our agreements.
7 Locally owned company – Common Sense Business Solutions is a locally owned and operated business in Santa Rosa, California. We use all of our own full time employees to provide any and all service so you'll never be working with a sub-contracted company. If you do business in Santa Rosa, we bring 'copier service near me' to a new level.
Copier Rental Options
Common Sense Business Solutions offers a variety of copier rental options from the Konica Minolta Bizhub lineup. This includes the latest technology and user-friendly features for startups, temporary offices, growing businesses, and offices that simply aren't sure what their future printing and copying needs will look like.
In our explainer video (below), we discuss the following options:
Color copiers
Black-and-white copiers
Copier, printer, scanner, fax machine combos
Desktop-size business printers
Cloud and wireless printers
Copiers that scan to PDF
Printers that make brochures, booklets, and mailers
Not sure which options you need? Watch our video:
Read Video Transcript Here
I'm really excited to give you an overview on the Konica Minolta Bizhub Color Copier Printer Scanner equipment.
At first glance, it can seem intimidating to choose what's the right model for your company's needs. Really, there's a lot more simplicity than it seems. Konica Minolta makes a full line of equipment, starting from 22-pages-a-minute print speed, going all the way up to 65-pages-a-minute print speed, and there's seven models total in that print speed range.
However, all of the different models offer the same capabilities, the same great quality, the same scanning speed, and the same optional accessories that can be added to any of the different models, so that the machine best fits your specific needs.
So I want to give you an overview on all the different things that this equipment can do and the different configurations and options that you can potentially add to the equipment. So first of all, as a multi-function machine, most companies use this to do all of their day-to-day administrative copying, and in that sense, it does all the things that you'd expect from a copier. It has an automatic document feeder. It can do automatic two-sided copying. There's multiple paper drawers. All the different models come standard with two 500-sheet paper drawers, and you can put whatever size paper in the drawers meets your company's needs. If you have a want for more different paper options, you can add a third or even a fourth paper drawer option, to give you more flexibility.
You can put anything from little half-size paper, all the way up to 12-inch by 18-inch paper in any of the four drawers, and any of the drawers can handle up to 90-pound card stock, so you have a lot of flexibility.
With copying, it's all pretty straightforward, but in today's world, it seems most people are doing more and more scanning, and that's one of the areas that the Konica Minolta Bizhub model shine. So again, regardless of the print speed of the particular model you choose, all of the machines offer 80-pages-a-minute scan speed, which is lightning fast.
So let me show you how that works. You can take a stack of documents, put them right in the automatic document feeder, and you simply tell the machine that you want to scan, and you can have pre-programmed any combination of folders you want to scan into or email addresses you want to scan to. So in this case, I'm simply going to show it that I want to scan to my email address and hit Start. Again, at 80 pages a minute, this machine gets your scanning done and gets you back to your desk, where those documents will be waiting right in your email as a PDF attachment. So it's super easy to use.
Now, in addition to copying and scanning, most of our customers use this equipment as their main work group printer. It often serves an entire company's printing needs or a large department, and it can do everything that you would want and expect from a high-quality printer. Again, you have access to all the different paper drawers and all the different paper stocks, and you can count on getting really high-quality printed images when high quality is called for.
Now, some of the features that I really appreciate and are really fun to show you are printing directly from your Smartphone or from your tablet. I mean, we all carry around one of these phones now and we keep a lot of our media right here on the phone. So why go to a computer to print the image you want? In this case, let me show you how it works. You go to your cell phone and simply pull up an image and you hit the Print icon and select Print and tell it OK and it's going to take that file directly from my phone and send it to the printer, without ever having to access a computer at all.
Now, a lot of the times, people think, "If I'm sending a cell phone picture, what's the quality going to be like?" Well, on the Konica Minolta BizHub, the quality's outstanding, and let me show you. Again, super fast and you get an amazing high-quality image in just seconds. So that's pretty amazing stuff.
One of the other things I really like is that a lot of companies are wanting to print their marketing materials right on the machine, and it seems in most companies, there's one person that creates those marketing materials and all the other people in the company run to that person every time they need something reprinted. Well, to make it easier on that person and on your staff, the Konica Minolta BizHub has a feature where you can store commonly-printed jobs right on the machine itself. And let me show you how that works.
Your employees can go up to this equipment and they can go to the User Box, where you can set up folders and I'm going to open a folder and what we have here are commonly-used print jobs. Any of the staff can walk up, choose a document within the folder, tell it they want to print the document, and hit Start, without ever needing to know anything about the machine or knowing what features are needed to get the result they want. They can count on getting the same high-quality images that they're used to, with the exact same result every time. No more human error and no more needing to pester that one person every time someone in the company needs something printed.
So again, you get fast, high-quality printing. In this case, printed out a beautiful image of some nice maple leaves, and the color is amazing. The flexibility of the different types of things and the different types of paper you can print on are amazing. So the Konica Minolta BizHub systems, if you're looking for a reliable, easy-to-use machine that can handle company-wide copying, scanning, and printing, I really feel that any of the Konica Minolta BizHub systems would be the right machine for you.
And if you're looking for more information or if you have questions about any of the specific models, feel free to give us a call here at Common Sense Business Solutions. Our direct number is (707) 528-2151 or you can visit us online at www.csbscopiers.com.
We appreciate the opportunity to help you with your copying and printing needs, and we look forward to hearing from you.
Copier Rental Makes Common Sense!
We've helped organizations from a diverse array of industries, including construction companies, law offices, IT companies, healthcare companies, schools, colleges, churches, government agencies, and more. Common Sense Business Solutions works closely with you to find the best copier rental for your needs.
Whether you need a scanner and copier for a few months or you want to lease a business printer for a few years, Common Sense Business Solutions offers the knowledge and insight you need to choose the right terms.
Let us get to know you and your business, and we'll help you find the best copier to rent and hammer out terms that suit your business's budget and preferences. From saving you money to empowering you with ongoing service, Common Sense Business Solutions is here for you!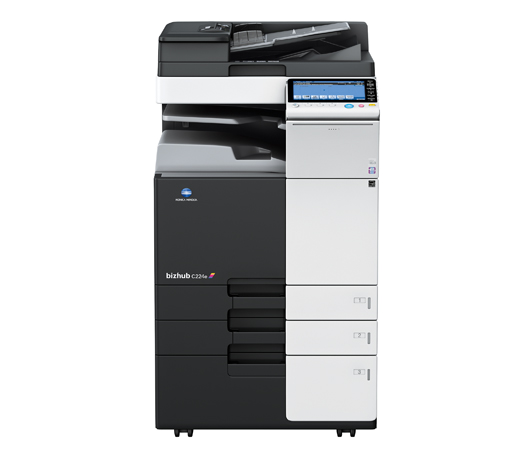 Browse Monochrome Copiers
How efficient is your office? Office efficiency is a good measure of productivity, of course, but it's also a good sign that you're not wasting money or other resources. When working to improve efficiency, you want to look at every area of your office, even if it...